Simple Sausage and Peppers Recipe – Healthy Diabetic
Recently, I was at a funeral reception that was catered with the most delicious Italian food ever and they had sausage and peppers that were to die for!  Actually it was a sausage and pepper recipe with onions.  However, for this simple sausage and peppers recipe, I omitted the onions when I made this because if my husband even smells and onion, he claims to get a headache from the food.   That's a whole other topic though.
So I made this as a simple sausage and peppers recipe and it was such a hit with my family!! I was actually surprised how much my kids ate for dinner the night I first made it.  For the kids I served rolls and cut the sausage lengthwise with the peppers on the side.  But, the adults just ate the sausage and peppers as-is and they were flavorful and I was able to save the sauce and peppers for another recipe on another night. I actually made my baked meatballs recipe with the sauce. Here's the recipe.
I originally just used one pack of mild Italian sausages, which was 5 sausages, we ended up with no leftovers whatsoever.  Then when I've made it since, I've used two packages, so we have enough for a bit of leftovers and I can still use the peppers and sauce for meatballs.
And if you want to have a sausage with less fat content, the grocery stores carry plenty of chicken and turkey sausage options these days.  I eat low carb, but not always low fat.
I'm sure you'll love this simple sausage and peppers recipe because it's super easy and it's delicious!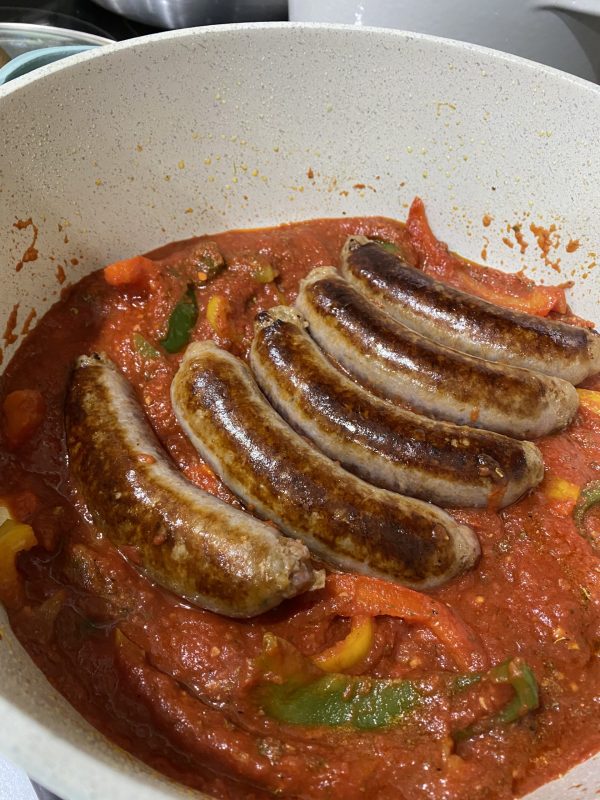 | | |
| --- | --- |
| | |
Slice up the bell peppers and onions if you choose to add onions.

Brown the sausage on both sides. I sometimes try to get all sides browned, but it's not really necessary. Once browned, set aside.

In a large pot, add the avocado oil and the peppers and onions if you add them. Cook the peppers for 5-7 minutes.

Add crushed tomatoes, garlic cloves either diced small or grated, italian seasoning, onion flakes & steak seasoning. Cover the pot and let it come to a simmer. Optional: Add red pepper flakes if you want a spicier sauce.

Nestle the sausages back in the pot and cover.

Continue to stir and let cook for 30-35 minutes covered or until the sausages are fully cooked and the peppers are done to your likeness.

I sometimes cut the sausages lengthwise so my kids can eat them on a sandwich. I just eat the low carb version as peppers with sausage. Enjoy:)