Diabetic Low Carb Meatballs – 3 Low Carb Meatball Recipes
I have come up with a few meatball recipes that are diabetic friendly.  This means they are low carb for sure, I don't add any bread to any of my meatball recipes.  I do add oats if the mixture seems a little wet, but it's likely 1/4 of a cup divided over 4 servings of meatballs isn't many carbs at all.  That being said, you can use gluten free oats if you are gluten free.
The original meatball recipe includes red sauce and the meatball recipe is the EASIEST recipe ever! It uses ground turkey, spices and an egg to hold them together, roll them up and top with your fave low carb marinara sauce and voila, your family will be thanking you!!
Low Carb Turkey Meatball Recipe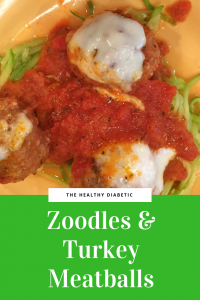 I like to serve these traditional meatballs over zucchini noodles, aka 'zoodles'.  If you've never made zoodles before, I have a 'How to make Zoodles post':) 
The other option for these meatballs is to make them on a sheet pan, then toss them in pesto once they are done, so here's another way to make them!
The next meatball came about because my kiddos like to eat things out of pitas, so I came up with these feta & spinach infused meatballs.  They are super easy to make, just bake them on a sheet pan or rack so the juices don't sit around the meatballs.  Tons of lemon, garlic and feta make these meatballs AMAZING!! I like to serve mine in a lettuce wrap with a greek salad too.
Here's the Healthy Chicken Meatball Recipe
This is my most recent meatball recipe and I created this one because I wanted something with a little heat to dip in a homemade avocado sauce:)  You could absolutely make the sauce or even just dip in guacamole.  They are outstanding!! Eat them in a low carb tortilla or lettuce wrap again.
Low Carb Mexican Meatball Recipe
This soup is super easy, I know I say that about all my recipes, but I refuse to cook anything that takes too much time.  I've got a family and a couple jobs, so let's be honest, if it's not easy, I'm not making it. Also, this is a kid favorite!!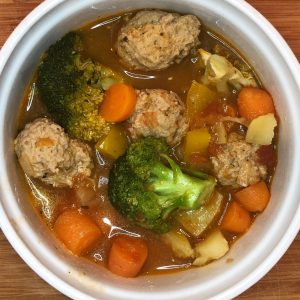 11 Diabetic Friendly Snacks
To Simplify Being Healthy On The Go..

There's no reason to feel deprived as a diabetic. Grab your 11 Grab and Go Snack ideas that will make snacking enjoyable again!